Easthampton Media Inc. is governed by a volunteer Board of Directors from the communities we serve (Easthampton and Southampton). We are currently seeking prospective members to join our Board of Directors to help guide the organization as it shifts with the new media landscape. Serving on our Board is a great way to get involved and connect with your local community.
We are seeking individuals with skills or knowledge in any of the following areas, or a strong willingness to learn: nonprofit board governance, finance, fundraising, development, legal knowledge, marketing and media strategies.
Individuals should have knowledge or interest in promoting media literacy, providing access to local information, civic engagement, amplifying under-served voices and promoting the exercise of free speech – these are all foundational to why we exist!
Duties: The Board of Directors works with our Executive Director to guide strategic and financial planning, build capacity and long-term stability.
Time Commitment: We are a volunteer Board, terms are 3 years. We hold monthly Board meetings with opportunities to serve on other committees.
How to apply: Send a letter of interest outlining how your background, skills, experience, and knowledge would be a good fit to President@easthamptonmedia.org
Erica Ann Beaudry – President
Erica Ann Beaudry is an Independent Insurance Broker specializing in Medicare Benefits and Enrollment. She's been calling Easthampton home for more than 40 years.
Mrs. Beaudry has a background in photography and has been actively engaged in creating photographs for more than twenty-five years. She attended Prescott College in Prescott, Arizona where she received her Bachelor's of Arts in Photography with an emphasis in Documentary Studies in December 2005 and in October 2013, she received her Post-graduate Certificate from the Oskreutzshchule Für Fotografie in Berlin, Germany. She was the Program Manager of the esteemed International Limited-Residency Master of Fine Arts in Photography at the Hartford Art School – University of Hartford from 2010 – 2020.
Erica Anne has been on a personal mission to gain a deeper understanding of the human experience around the globe. Her explorations have taken her to the San Blas Archipelago in Panama and Buenos Aires-Argentina, Kino Bay-Mexico, Kenya, Berlin – Germany, Paris-France and Tokyo – Japan.
Mrs. Beaudry comes to the Easthampton Media Inc. Board of Directors with a strong desire to engage members of the surrounding communities and to encourage civic engagement through citizen journalism & content creation.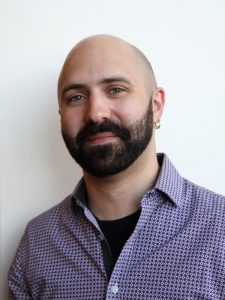 Jonathan Schmidt – Vice President
Jonathan Schmidt first joined E•Media in 2019 as a liaison appointed by the Easthampton School Committee.
Following his departure from the School Committee in 2022, he shifted to a regular seat on the Board of Directors.
During his time on the Board, Jonathan has discovered a great deal in common between the efforts of community media and his professional work as a librarian — such as public service, open education, resource lending, and dismantling the often-overlooked barriers to access that exist for so many people.
This perspective has informed his support of E•Media, and his vision for the role that this organization can play in the municipalities it serves. Jonathan now serves as Vice-President on the Board of Directors.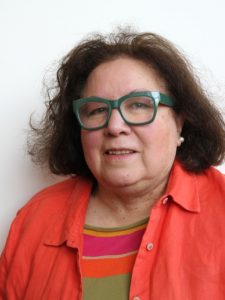 Nilda Cohen – Treasurer
After living in New York all my life, in 1983 I decided to leave New York and corporate life.  I have worked for several major corporations, in the field of market research, advertising, new business development, tax and finance administration.
I moved to Southampton, Ma.  My main goal was to volunteer. I wanted time to paint, do interior design  and garden.  I was also looking forward to having time to enjoy the many cultural and educational resources in Western Massachusetts.  I wanted to explore and get to know my community.
Within six months of moving I found the world of "not for profit organizations".  I met and worked with wonderfully talented and unique individuals who were making a difference.  I worked at Darby O'Brien Advertising, Career Development Inc., Children's Aid & Family Service, Inc., Lander Grinspoon Academy, Inc.  I have also served on numerous boards and committees: United Way Designation Committee, Human Service Forum, Zonta Club of Westfield, International Language School, Southampton Finance Committee, Southampton Select Board, the expansion/renovation of  the William Norris Elementary School , Southampton Council on Aging, and Zoning Board of Appeals.  I currently serve as  Board Treasurer for Highland Valley Elder Services, Inc. There has never been a shortage of ways to give.
Being invited to join the E•Media board, appointed October 2019 is a perfect fit.  I have come full circle.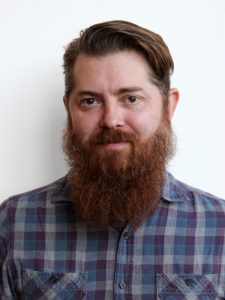 Frank Talarico – Secretary
Before joining the Board of E•Media, Frank Talarico spent 15 years at the worldwide leader in sports, ESPN, working in a variety of advanced technical positions. He gained immense experience in digitizing and archiving tape based media, digital content/media management, and helped create cutting edge file-based workflows.
Among the highlights of Frank's time at ESPN include traveling for the XGames for both summer and winter events, working in Brazil at the 2014 World Cup coordinating the media management of thousands of hours of content, and acting as Technical Lead for the Special Olympic World Games in LA. In 2015 Frank received an Emmy for Outstanding Sports News Anthology for his contributions to the program E:60.
With over 20 years experience, Frank was looking for a way to share his knowledge and passion for television with his local community. Now as a member of the Board at E•Media, Frank works with an incredible team helping to facilitate and promote community engagement through public media. Frank's favorite thing to do is spending time with his two children, wife, and dog, romping through the woods at their Easthampton home.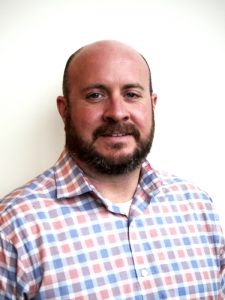 Kenneth Peters
Ken Peters is originally from Pittsburgh, PA and moved to the area in 1987.  He has lived in Easthampton since 2010, except for a small stint in Westfield.
Ken currently works for bankESB as the Business Solutions and Project Manager.  Prior to bankESB, Ken worked for Big Y Foods for 22 years where he was the Business Systems Manager. Ken's experience includes software evaluation, design, development, and project management.
Ken holds an AS and BS in Business Administration from the University of Phoenix.  Ken's hobbies include cycling, photography, and golf.
He has served on several other Easthampton committees including the 225th, where he was one of the event photographers, the Chamber of Commerce, and was a member of the Easthampton Rotary.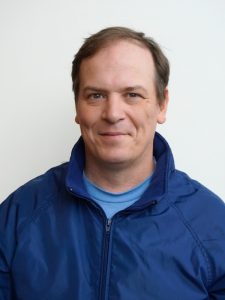 Nathan Markee
Nathan Markee is a painter: He is an abstract expressionist artist that uses primarily recycled materials, and he is also an interior and exterior painter house painter.
He moved to Easthampton three plus years ago, and has found a welcoming community. He is active in politics as an advocate for voting rights, and served as an election official in Connecticut . He has worked actively on political campaigns for several years and is currently a member of the Easthampton Democrats.
Nathan has also been involved with various non-profits over the years. Primarily, ones involving HIV/AIDS and Art.