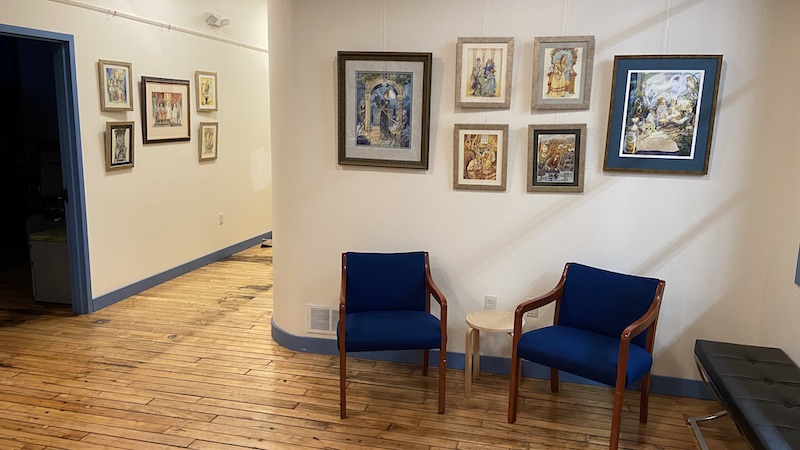 In addition to all of the amazing things we have to offer, we're also a fully functioning art gallery! Our extensive lobby wall space (390 sq. ft.), and prime location on the first floor of the Eastworks building, lends itself well to featuring artwork from local artists.  If you're interested in an exhibition of your work, please contact info@easthamptonmedia.org.
Feel free to stop in during open hours, 10:00am to 6:00pm, Monday through Friday, and check out our featured artist's work. 
Our Current Featured Exhibit:  "Color and Light: My New York" – Photographs by Pat Crutchfield
In her own words, Pat describes her work and how she began…
"My father gave me a Kodak Brownie and a roll of black and white film for my eighth birthday. I immediately went to my neighborhood swamp and tried to shoot polliwogs … it didn't work out very well. My first roll of film was a bust … but I kept practicing. My Dad taught me a lot, and then I went out into the world.
Fast forward to Now: My photography is the passion at the center of my life, and this passion carries me forward. Capturing images helps me to embrace the world and the people in it, and I photograph in gratitude for the gifts I'm given.
I have felt connected to New York City my entire life. I was able to visit relatives in Manhattan often, and, as a teenager, I walked my way around The City … through Central Park and The Battery and Times Square. Eventually, I was finally able to live, work and study in Manhattan. I captured few photos during that time, but I did make note of places to return to with a camera strapped to my shoulder.
The images in this exhibit were captured 2012-2022 as I walked around the island (very often with folks associated with the Robert Floyd Gallery and Learning Center) from Central Park, to the High Line, Battery Park, The Seaport, the magnificent Brooklyn Bridge… and beyond to city streets.
I love New York: The City brims with color and light. Their combined energy meanders about everywhere, flows through people, public art, dancers on the High Line, or a shadow boxer in Central Park … a young man who — incredibly — lined people up and made a gymnast's leap over their bent bodies. Yep, that's New York.
Two quotations guide my photographic vision. E.M. Forster's epigraph in Howard's End: "Only connect … Live in fragments no longer. Only connect."
And Carl Jung's wisdom: "As far as we can discern, the sole purpose of human existence is to kindle light in the darkness of mere being."
The camera frame and lens connect me to the flow of the Universe … camera in hand, image in sight, I'm in my zone and chasing light.
I offer this exhibit in to share the blessings I see. I hope you enjoy it."
Easthampton Art Walk : We will be open during the monthly Easthampton Art Walks (the second Thursday of each month). You will be able to enjoy some light refreshments, meet our featured artists, and enjoy live performances in our studio. Doors open at 6:00pm and the performances start at 6:30. Check back each month to see who our featured artist and performer will be. Also, be on the lookout for videos of our Art Walk performances! The performances are free and open to the public.
This Month's Featured Artist and Performer:  Our December '23 Art Walk will feature the exhibit "Color and Light: My New York" – photographs by Pat Crutchfield. We will also have a live music performance by local jazz trio "Masala Jazz". Doors open at 6:00pm and the music will begin at 6:30 pm.