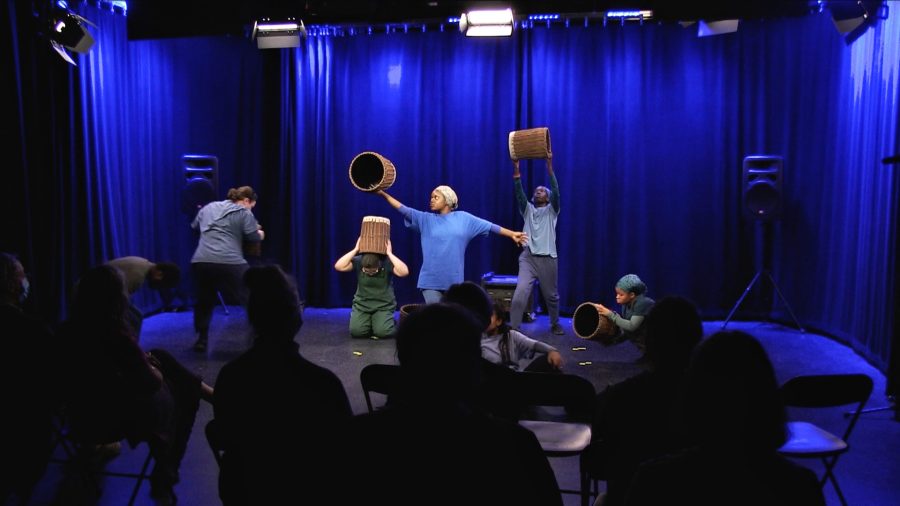 Production Studio
E•Media is proud to own our very own fully-functioning professional 32'x28' "Black Box" (Blackout) production studio. We are equipped & ready to handle a wide variety of productions with options to suit your specific needs. Boasting live-streaming and live broadcast capabilities, our main production studio has a vast array of DMX based LED grid lighting, professional audio and video equipment, and staff with the know-how to ensure your project is a success! From multi-tracked & mixed live music, multi-camera live-switched video productions, talk shows, performances, and whatever you can dream up – we've got you covered!
Podcast Studio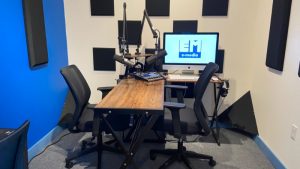 We also have a high end Podcast, Vodcast, and voiceover recording studio. This facility is acoustically treated, and features the Zoom® Podtrack P8 mixer, and legendary Shure® SM7-B microphones. Whether you're launching your dream podcast or vodcast, recording a voiceover or audiobook, you'll have everything you need to record, edit, upload and distribute an excellent quality product. 
Equipment
Our Production Studio equipment includes: 
Newtek Tricaster

®

video production switcher

Dolly mounted video cameras with tally lights

Behringer

®

X32 compact digital mixer and 32 channel digital stage box

A wide assortment of microphones

A vast array of grid based DMX, LED light fixtures

 

Black and Grey rail mounted curtain surrounds

Green Screen curtain
Our Podcasting Studio equipment includes:
Zoom

®

Podtrack P8 mixer

Shure

®

SM7-B microphones with Cloudlifter

Panasonic

®

AV-HLC100 production switcher

Camera Mounts

27" Apple

®

iMac with Apple Logic Pro software.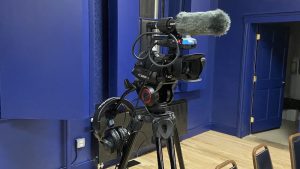 Our Field Production equipment includes:
Canon

®

XA-45 4k Camera Kits (includes mic, headphones, zoom controller, tripod)

Panasonic

®

Lumix DMC-GH4 4K Mirrorless Micro Four Thirds Digital Camera

Sennheiser

®

wireless microphone kits

Zoom

®

H5 and H6 digital recorders

Rode

®

shotgun mics

Mic booms
Fiilex

®

Light Kits

Fiilex

®

Floor Standing Fresnels

Softbox Kits